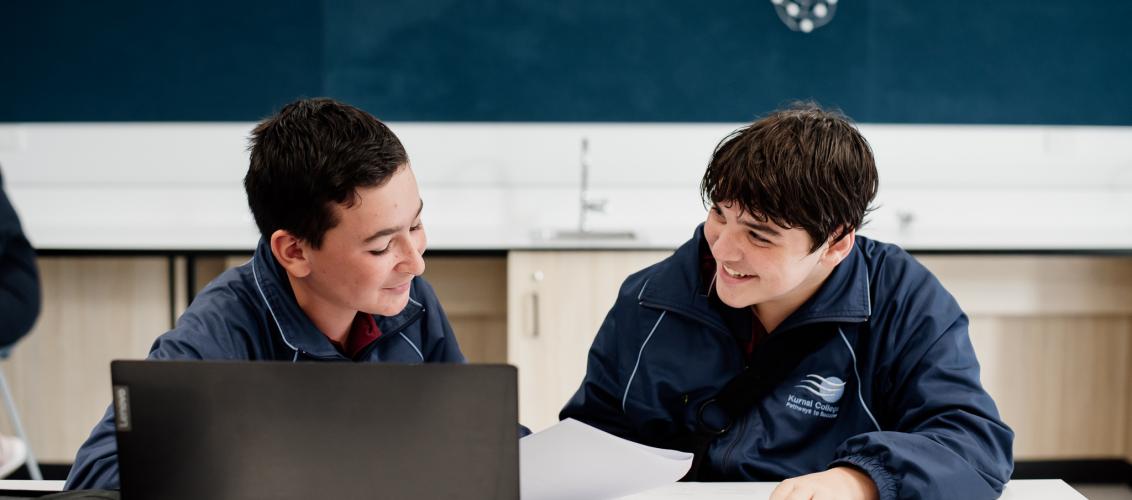 Core Subjects
Kurnai College Year 9 students study four core subjects throughout the year.
English, Mathematics, Science and Humanities.
Churchill Campus Electives
Students can choose three electives each semester, one which is run together with Year 10 students.
Subjects on offer in the Year 9 elective blocks are Outdoor Education, Woodwork, Art, Theatre, Health and Fitness, Metals and Home Economics.
Subjects on offer in the Year 9/10 elective block include a selection from SEPEP, Advanced PE, Advanced Technology, Design Technology, Forensic Science, Youth Culture, Film Appreciation, Art, Music and Chinese.
Morwell Campus Electives and Project Time
Students can choose two electives each Semester, which are run together with Year 10 students. Subjects on offer in Year 9 are Art, Electronics, Community Spirit, SEPEP, Theatre Studies, Animal Studies, Visual Communication, Media Studies, Design Technology, Advanced PE, Crime Scene Investigation, Music and Creative Writing.
Year 9 students also choose a Project Time subject that runs for the year. Students work in teams to plan and deliver different projects within the school community and beyond. Options within Project Time are Cottage Crafts, Human Powered Vehicle, Digital Technologies and Art
Team-Time
Students in Year 9 participate in Team-Time throughout the year. In Semester One in Team-Time, students learn about sexual and reproductive health and how to be resilient and respectful in an online environment. In Semester Two, students begin planning their careers pathways and learning about the world of work.
Camp
Students in Year 9 can attend the Melbourne Discovery camp. This camp is designed to familiarise students with the urban environment of a capital city by helping them develop their abilities to independently navigate public transport and learn about the many different activities on offer in the city of Melbourne.