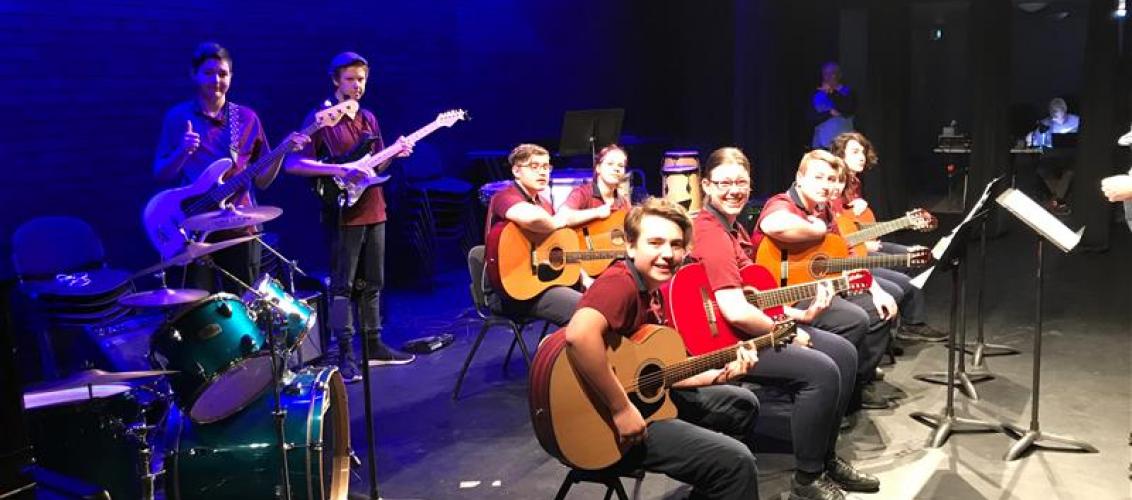 Kurnai College Music Program

Kurnai College offers students across its three campuses the opportunity to be part of a vibrant and engaging music program.
The program caters for students with mixed abilities and interests, whilst providing numerous learning and performance opportunities.
Instrumental tuition is available for a variety of instruments including woodwind, brass, percussion and stringed instruments. In year 7 all students will engage in a semester of classroom music. Students will learn how to read, write and play music. Elective music classes begin in years 9 and 10 where students will continue to develop their musicianship skills in preparation for music in VCE Units 1-4 (Music Performance).
Students have the opportunity to participate in various extra-curricular opportunities including the College choir, concert band, and several contemporary ensemble groups.
Throughout the year, our students showcase their performance skills at the annual primary schools tour, Kurnai's Got Talent, College soirees and concerts and various community events.
ENROLMENT

Enrolment - $100.00 annual fee ($25 per term)
Instrument Hire Fee - $100 annual fee
This also covers the cost of additional materials provided to students - manuscript book, display book, and instrument specific text.


STRUCTURE OF CLASSES
• Classes occur once a week during the school day
• Length of classes is 60 minutes
• Class time rotates every week
• Classes can be individual or in small groups
• Rehearsals occur weekly, either during a class time or after school.



ENROLMENT PROCESS
1. Complete an Expression of Interest form (contact the general office)

2. Parent/guardian will be contacted when their child has been successful in receiving a position in the program
3. An Instrumental Contract will be sent to parent/guardian
4. The contract and payment will need to be returned to the general office within two weeks. Payment options are available - please contact the general office for details
5. Classes will commence.

MUSIC TEACHERS
Chris Gretton
Ian Hopkins
Kathryn Sims
For further information please contact Chris Gretton College Music Coordinator 5132 3700