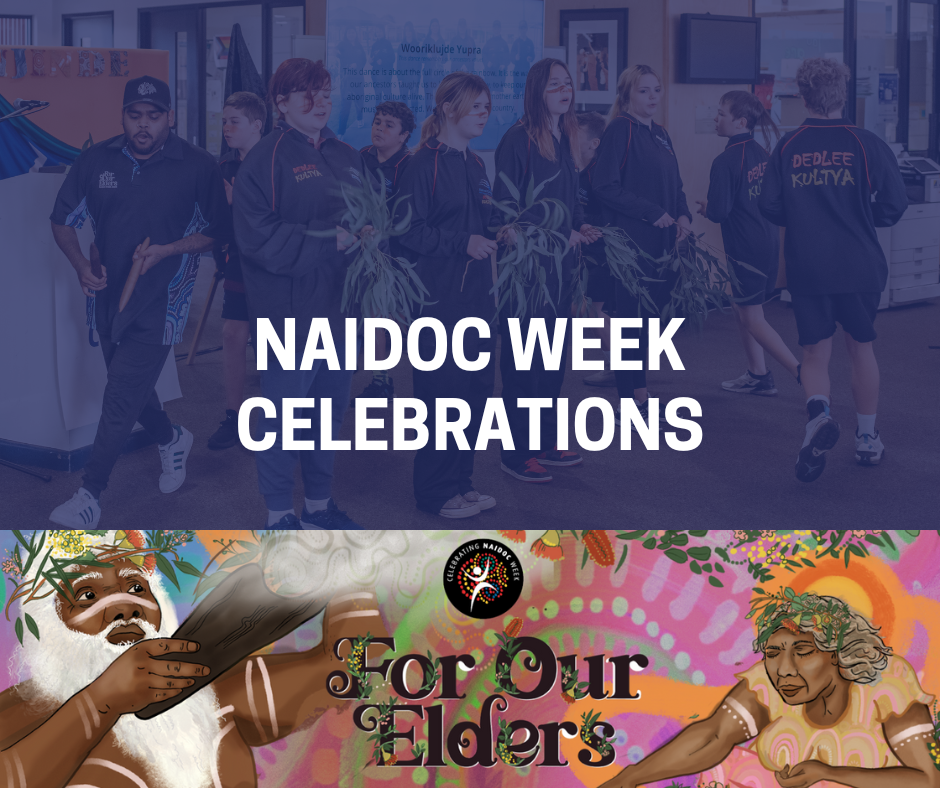 Kurnai College has recently held a major event to celebrate NAIDOC and recognise the history, culture, and achievements of Aboriginal and Torres Strait Islander Peoples. With the official week falling in the school holidays most schools celebrate NAIDOC in the weeks following and Kurnai College whilst celebrating at each campus also hold a major event at a different campus each year.
This year indigenous students from across the College and their families gathered at Churchill campus with local elders and other members of the Indigenous community, invited dignitaries, and staff and student leaders from Kurnai and other schools to honour the rich traditions and contributions of our Indigenous community and showcased this year's theme, "For Our Elders".
Kurnai staff members GunaiKurnai and Monaro Ngarigo woman Hollie Johnson, and GunaiKurnai man Tre Moffatt led the day's proceedings with Tre leading a smoking ceremony followed by Hollie giving a Welcome to Country in her grandparents' native language on behalf of the Brayakaulung people of the GunaiKurnai Nation and English. Year 8 student Marley then performed an Acknowledgement of Country with Year 9 students Louise and Ashlee at his side signing in Auslan.
Kurnai College Indigenous student dance group 'Dedlee Kultya' performed a series of dances including Worriyl the Lyre Bird, Wooriklujde Yupra, and Naanaa Nukindhere! The culturally based dances shared stories and wisdom to help and educate young people.
Other highlights of the presentation included past students Crystal Bertoli and Anna Solomon sharing their experience of Kurnai and how it prepared them for opportunities after completing Year 12 and gave emotionally powerful tributes to how influential their Elders have been and continue to be in their lives. Aboriginal Community Liaison Officer with Victoria Police, Laurie Marks spoke about the importance of supporting each other and the value of Elders in guiding young people as they grow.
The college unveiled a commissioned artwork from Aunty Helen Treadgold, which will proudly be displayed at Churchill Campus. Aunty Helen spoke about her art journey and creative practice which did not commence until later in life, after undertaking classes at Koorie TAFE, where her teacher encouraged her to have a go despite Aunty Helen being adamant that she could not do art. Art is now an ingrained part of her everyday life.
At the conclusion of the formal proceedings, the guests were invited to tour the new Indigenous Garden at Churchill Campus, the second such garden for the college. The garden includes a mural and sculpture of Tidilick the Frog, totem poles, and a variety of native plants with plaques explaining their spiritual or medicinal cultural connections. Within the space, there is also a yarning pit that will be used for campfire conversations. This space will be a valuable addition to the campus, allowing for all to share.
The day finished with a feed and a yarn, whilst listening to the music of Torres Strait Islander musician Kiwat Kennell.
Kurnai College would like to take this opportunity to thank everyone who helped contribute to the success of the day and members of the Indigenous Community for attending and being an integral part of our day.
Photography by Autumn Lace Photography