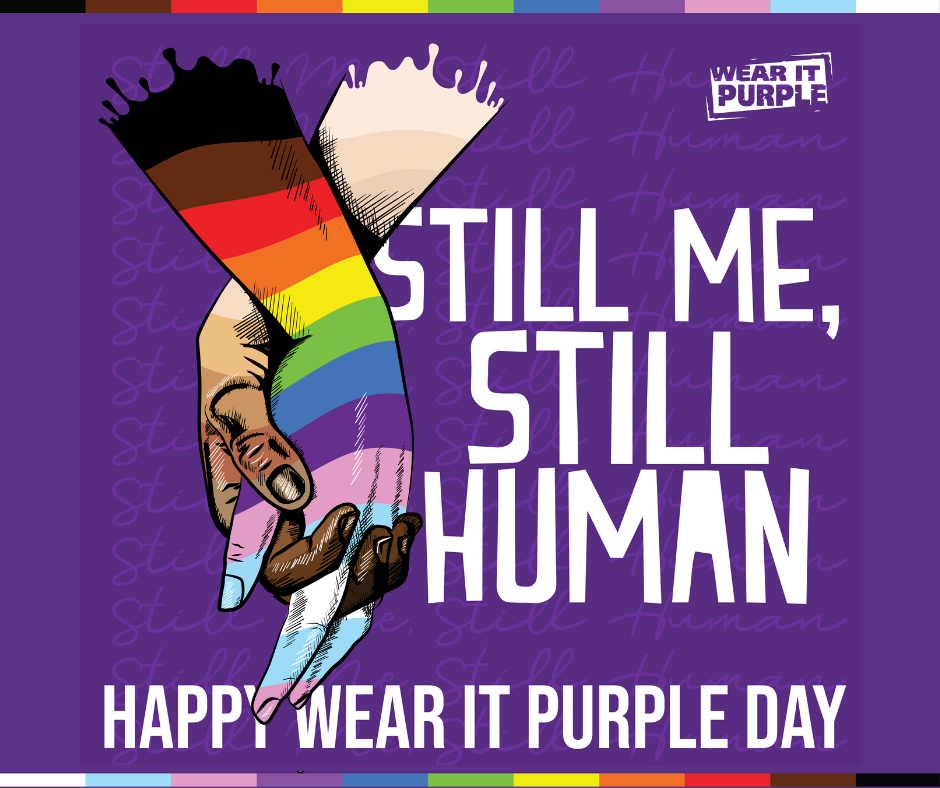 UNIVERSITY CAMPUS
On Thursday the 25th of August, Kurnai College's University Campus will be hosting Wear It Purple Day to raise awareness of LGBTQIA+ youth's struggles and demonstrate allyship in the Kurnai College school community! This event is for all students and staff to participate in to help show members of the community that they are safe and accepted in our community!
SRC have organised nail painting, ally and pride badges, temporary purple hair spray, face painting, music at lunch and many other fun activities to promote pride in our community!
Students and staff are encouraged to wear purple on the day to show allyship and support for our LGBTQIA+ family and friends!
CHURCHILL CAMPUS & MORWELL CAMPUS
The Churchill Campus & Morwell Campus will be acknowledging Wear It Purple Day on Friday 26th of August by encouraging students to add a purple accessory to their school uniform.
---
WEAR IT PURPLE DAY
Friday 26th August
Press Release from www.wearitpurple.org
Every year thousands of schools, community organisations, universities and workplaces hold events across Australia for Wear It Purple Day. As a day of significance for many Australians, it focuses on our LGBTQIA+ youth and the issues they face, whilst showing them they have the right to be proud of who they are and who they are becoming. Wear it Purple Day is now an international movement of expression, celebration and support. By wearing purple on the last Friday of August, you will demonstrate to hundreds of thousands of rainbow young people across Australia that you see them, you support them, and you respect them. We encourage you all to celebrate Wear It Purple Day with us on the 26th of August this year.
'Still me, still human'.
Each year, Wear It Purple's Youth Action Council (YAC) brainstorms a theme relevant to them. Their task is to come up with the day's focus based on how they're feeling and the rhetoric in the LGBTQIA+ youth community. This year the theme they have decided for Wear It Purple Day 2022 is 'Still me, still human'. The message being that people tend to focus on labels, the news story, the target or data and forget what we truly are – human. Our 2022 theme encapsulates the message of humanity, honesty, integrity and authenticity when discussing all diverse identities within the LGBTQIA+ community. We are your hospitality workers, your retail staff, your lawyers, your financial advisors, your teachers and, most importantly, your youth. We are human. It reassures us that the world is changing for the better to embrace a variety of diverse individuals and, over time, remove dehumanising stigmas surrounding LGBTQIA+ communities.
Why is this theme and Wear it Purple Day so important?
As a broader community, we know the feeling and have a lived understanding of the impact of discrimination. Watching debates over Religious Discrimination Bill, The Marriage Plebiscite and the rhetoric chosen by news organisations or politicians on the rights of Trans and our Gender Diverse (to list just a few) has had huge negative impacts on health, wellbeing and safety of our community. The ever-increasing public attack on rights is driving up the already staggering statistics of poor mental health and suicide rates in our community.
We hear often from young LGBTQIA+ people in our Wear It Purple Youth Action Council (YAC) and broader youth networks that they face fear of being rejected or discriminated against. We see the statistics of 75% of LGBTQIA+ youth in Australia being bullied due to their identity, 80% of this occurring in our Australian Schools, resulting in LGBTQIA+ youth being 12 times more likely to experience depression and 5 times more likely to experience anxiety. It is worse if we look at intersections like regional, rural, our First Nations and our Trans and Gender diverse kids. Horrendously, 1 in 4 LGBTQIA+ young people have attempted suicide.
Dr. Sarah Bowman from Royal Prince Alfred Hospital has researched the impact of these damaging and misleading events. Sarah states: "We found that public debates on human rights are significant contributors to low moods and depression". She goes on to say in a recent ABC article, that "these issues need to be addressed with empathy, understanding and from a position of knowledge". It is important to remember the human side to these conversations and that our rainbow youth are 'Still me, still human'.
"Being queer and visible is a privilege not a lot of people have. For our youth, one of the many factors impacting this is their safety and the role models they have around them. People who are confident to carry courageous conversations, to ask questions, to learn, to create space for youth voices and to actively listen. So often, we can be caught up in the data or the words in the messages we are trying to deliver. Resulting in the fact we are forgetting we are talking about people. That's why I am so proud of our Youth Action Council, for once again reminding us of the importance of empathy and that we are talking about people's lives. This year's theme, 'Still me, still human', I believe, is our most powerful yet".
- Lara Husselbee, Incoming President – Wear it Purple
Who are Wear It Purple?
Wear It Purple is a volunteer-led and run organisation that focuses on creating safe spaces for rainbow youth in schools, universities, workplaces and public spaces.
12 years ago, Wear It Purple was founded in response to many global stories of teenagers taking their own lives due to bullying and harassment. These real stories, real responses and real heartbreak resulted from a lack of acceptance, a lack of community, support and safety due to their sexuality or gender identity.
One of Wear It Purple's priorities is to run events, campaigns, provide guest speakers, celebration kits and resources on Wear It Purple Day. For Schools/Universities this is free, with corporate activity funds and donations raised going to support this effort.
And whilst Wear It Purple Day is the main event on the calendar, Wear It Purple strives to bring youth issues to light through supporting the arts, community and education initiatives. We research, build and provide free resources and thought leadership to schools seeking an inclusive culture. And join forces with other amazing community organisations to ensure the conversation on LGBTQIA+ inclusion continues to move forward no matter the political climate.
For more information, head to the website: www.wearitpurple.org