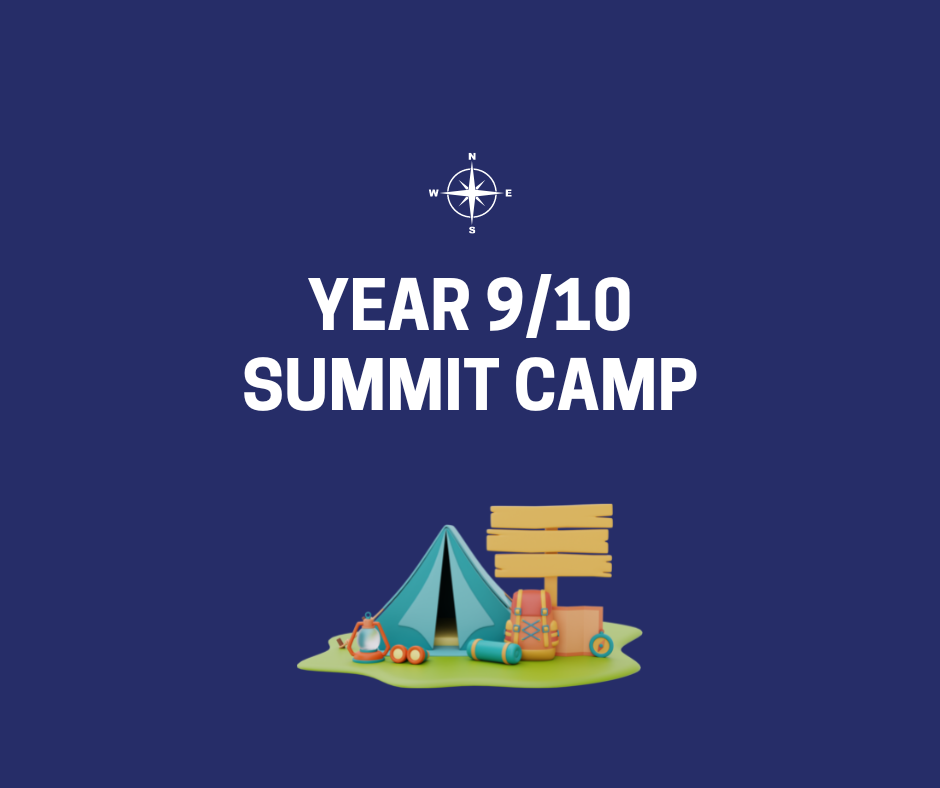 Last week of term 2 was an amazing experience for the Morwell Year 9 and 10 students who attended The Summit Camp in Trafalgar. Congratulations to everyone who attended for a transformative experience that will help us to confront our limitations and exceed expectations in the future.
We were expertly guided by our coaches Ella, Cam, Logan, Centauri, Adam and work experience student Josh. They proved to be positive, supportive, motivating and invested in the success of each and every student.
Over our time at The Summit, students were encouraged to unleash their greatness and followed our Five Keys:
1. Have Fun
2. Play All In
3. Make Lots of Mistakes
4. Get Comfortable Being Uncomfortable
5. Don't go Home Wondering What-If
At the end of day one the teams had begun to form, and students chose the following names for their teams:
1. A-Team, 2. MVP, 3. Kobe Bryant, 4. Shezzas, & 5. AB
First rotations were the Leap of Faith, Inflatable City, Flying Fox, Rockwall and the Snowy River Challenge. Everybody started stepping out of their comfort zones by hitting their targets, stretches and super stretches!
Each morning started with reading out some positive feedback from students, teachers and coaches. It was wonderful to hear about the amazing challenges everyone took on and exceeded.
The coaches lead students to set a daily intention, choosing to either making a mental note, telling a friend or writing it down. This was done to support ourselves to make the most of camp and model how to make the most of our lives by actively deciding who we want to be and what we want to do. The final link was to add in a touch of gratitude reflecting on everything we have to be grateful for.
So many games were played throughout the week, most notably Gumboot Bowling where only a few could win against Coach Ella. Kade starred in Tug of War almost taking the camp king, Coach Cam down.
Activities continued with Highwire, Trust Games, Abseil, Tash's Ladder and the Scavenger Hunt.
And finally, everyone was ready for the Monster Course. As student began in their teams, the mud definitely began to fly! The teams not only completed the lap once but twice! This challenge pushed everyone outside of their comfort zones, in all different ways. The most incredible thing happened, everyone contributed to this activity to their greatest capacity. Students began helping each other within their teams and then, to students in other teams. The group transformed on the Monster course from a competition between teams to a whole camp effort. Students acted as one and lived up to the values we strive for in WE'RE Kurnai.
Throughout the camp, sleep deprived teachers ran some pretty epic night activities, from movie nights, hot chocolates, night walks, line dancing and even a party (well almost – everyone was too tired on the last night)!
Camp ended with the last set of rotations, the Summit Window, Snake and Nails, Sky Bridge, Orienteering and the Cave. Student's comfort zones had grown so much that these activities seemed not quite as scary, and Riley even claimed to have lost his fear of heights...
A huge special mention to our values winners. These people were voted for living and breathing by our Five Keys and pushing beyond their comfort zones, from teams:
1. A Team – Kayla
2. MVP – Sarah
3. Kobe Bryant – Riley
4. Shezzas – Nick
5. AB – Declan and Jasmine
Many thanks to all of the coaches Ella, Cam, Logan, Centauri and Adam. Thanks also go to the caring Kurnai Team Kelsey, Sheryl, Alan, Shawn, Anthony, Colleen, Janelle and Sarah.