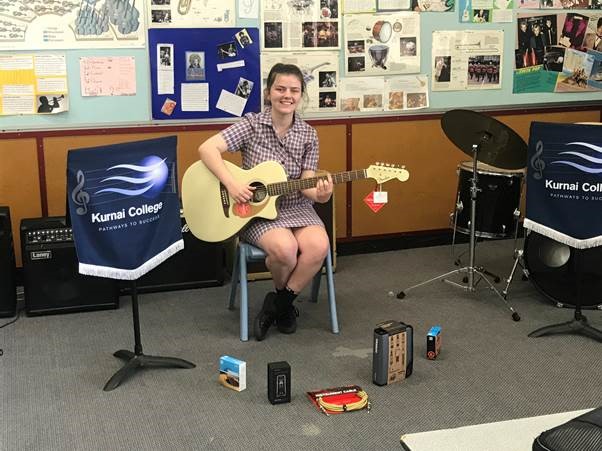 Our Music students have had the opportunity to participate in the 'Rockfest Music Competition' this year. The competition is a national event that gives students the opportunity to develop networks with music students from across Australia and is adjudicated by professional musicians and industry leaders who provide feedback to the participants to grow and develop their musical potential.
Kurnai College entered in the 'Best Bands' & 'Best Solo Artist' Categories.
We are thrilled to announce Bonnie Sykes as the winner of the 'Rockfest Futures Award'. This has been awarded to Bonnie for her original composition 'CEO of the Universe' https://www.youtube.com/watch?v=t_jPKN0NJsQ .
The 'Rockfest Futures Award' is awarded to young and emerging artists that show potential, creativity and dedication to music. Bonnie has received a Fender guitar a Daddario gift pack and a $500 Cranbourne music voucher total prize $2000.
We are equally delighted to announce that Sienna Wood came runners up in the 'Best Solo Artist' and 'Best Vocal Performance' Categories. Sienna received these nominations for her original composition 'Dance to the rhythm of gold" https://www.youtube.com/watch?v=6e_AOn4uLzU .
The college is extremely proud of these students for their resilience and dedication to the arts in what has been a difficult year. Congratulates to Bonnie, Sienna and all our music students that have participated in the competition.