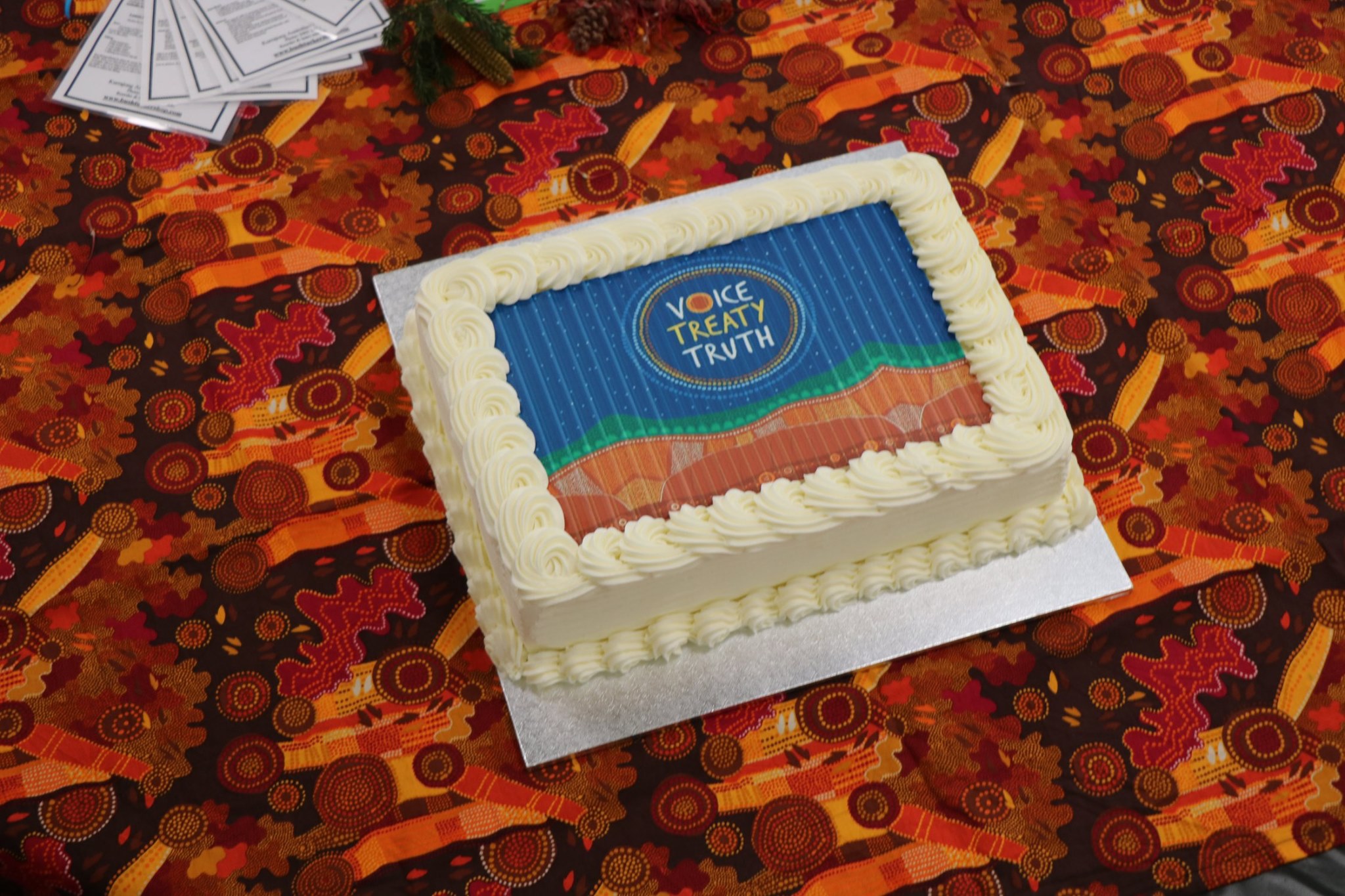 Each year, Kurnai College celebrates NAIDOC (National Aboriginal and Islander Day Observation Committee) week. This is an important part of our students' education and a strong step towards honouring and understanding our First Australians.
Each campus takes it in turns in hosting the main event.
Students at the Churchill Campus were treated to a BBQ on a glorious winter's day and Violet Juracevich explained to our students the origins and meaning of NAIDOC.
Students at the Morwell Campus also acknowledged the week with a BBQ, while the main event was held at the University Campus, in Churchill.
On Thursday 25th of July, our Learning Community came together and celebrated VOICE, TREATY, TRUTH. The celebration commenced with a free BBQ lunch prepared by our year 11 and 12 VCAL students. The event then proceeded with Aunty Angela Chittem commencing the day with a smoking ceremony, and our own students Allana Carrigy performed an Acknowledgement to Country and Izayah Terrick was our Master of Ceremonies. Our very own Dedlee Kultya dance group were once again a highlight, with a few tears to be seen in the audience. Another very emotional moment was when special guest Uncle Kutcha Edwards took to the stage and started singing and engaging with our Chinese community. Uncle Kutcha spoke about his childhood and shared some stories which once again connected with everyone present.
Thank you to everyone who attended the event and ensured our day to be a wonderful success.
Borun the Pelican
As a special addition to this NAIDOC event was a cultural piece of significance that will always be inspirational to the Aboriginal and Torres Strait Islander community. Dave and the VCAL students made a pelican out of steel. The pelican is significant as it is a representation of Borun. The story goes like this. "A long time ago the first people were animals and the first Gunaikurnai Man Borun. Borun came a long, long way down from the hills, looking for a place to live, carrying a bark canoe on his head. He's walking. Walking and hears tapping! Looks here, looks there, nothing! Where's the tap coming from? He comes to a river puts down the canoe and what's inside? Tuk (a musk duck) Borun sees Tuk, Likes Tuk and they start the Gunaikurnai people. As told by Robert Andy. Tatungooloong Gunaikurnai. Our very special Elder, Aunty Christine retold this story on the day.