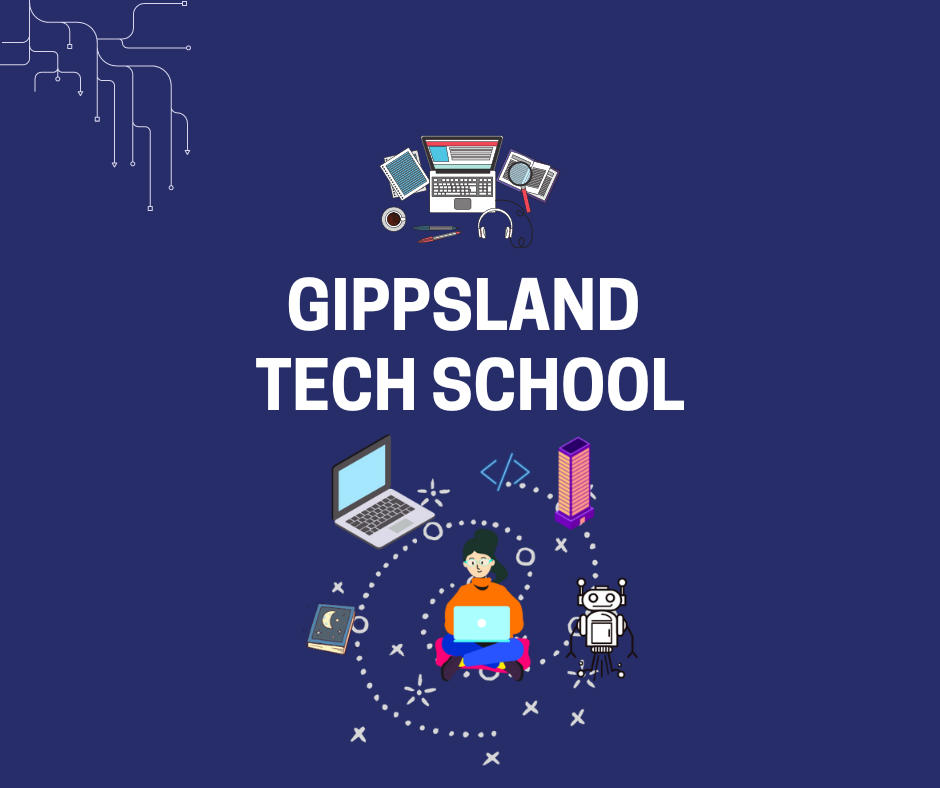 The Gippsland Tech School is a high-tech learning environment, with innovative education programs linked with local industry delivering real-world learning to students. Kurnai College utilises the resources and specialised programs offered by the Tech School throughout the year. During 2023 students have already had the opportunity to participate in a number of different programs.
---
Year 9 Human Powered Vehicle (HPV) Elective Class
On Friday the 5th of May, the Year 9 HPV elective class from the Morwell Campus went on an excursion to the Gippsland Tech School to take part in the Renewable Energy program.
During this program, the students were introduced to a variety of different types of renewable energy and their advantages and disadvantages.
The students used a variety of technologies to investigate and conduct experiments to design, build, and test a model city using renewable energy.
Students from Morwell's Year 9 HPV class spent the day at the Morwell Tech School learning about "A renewable future". Students will take this knowledge into their planning for the Maryborough 24 hour Energy Breakthrough event in late November.
For more information regarding the Human Powered Vehicle (HPV) Program visit: http://kurnai.co/human-powered-vehicles-hpv
Year 9 How to Make a Difference Program
On Thursday 4 May, the Year 9s from the Churchill Campus attended the 'How To Make A Difference' program at the Tech School in Morwell. The program had links to Critical and Creative Thinking, and Personal and Social Capability.
The Facilitators discussed how well-known companies such as Apple, Microsoft, and Facebook; all started out as a simple ideas and grew into a global phenomenons. They were able to do this for one simple reason; they identified and met the needs of a user group in a way that was different from anything else that was available at the time. Whether you are looking to make millions or change the world for good, developing the ability to identify and meet genuine user needs is a skill that can set students up for life. It is also a skill set that is used across all industry areas and can be used to start a successful enterprise.
The Program introduced students to using the Design Thinking process to meet a user's need. Through the program the students learned by solving an identified problem for a classmate, moving through the empathy, define, ideation, prototype, and testing stages of the Design Thinking process. Students learned about building knowledge of a user through interviews and research, and how to use this information to identify the key problem to address. The students were taught ways to generate a wide range of ideas and how to narrow these down to practical solutions. They learned the purpose and key elements of prototyping before presenting their solution back to their user for testing and feedback.
Students developed their understanding of and ability to use the Design Thinking process, learned the importance of user-centred design, and used rapid prototyping to develop and test solutions. The skills learned can help students in any future career they choose to pursue.
"Quite a few students stepped outside their comfort zones. It was honestly refreshing to talk in front of a group of people with such certainty. The lessons and ideas the tech school introduced were quite interesting topics that required a decent amount of thinking and creativity. The seating was comfortable to say the least, as well as the technology being easy and fun to use." - Leah Simpson
"We got to create different things and explore out of our comfort zones. The iPads were good and so were the pens that you could draw on it with, my friends and I really enjoyed it, we spent the second lunch break just drawing and finishing up on our ideas and designs." - Kyra Ottey
Year 7 Industry Tech Taster
On Wednesday the 3rd of May, students in 7C/7D/7E from the Morwell Campus went on an excursion to Gippsland Tech School.
The excursion focused on the students learning about how the world of work is changing and the skills that will be most important for them as they move into the workforce. Students then rotated through three activities that expose them to industry-changing technologies and new ways of problem-solving.