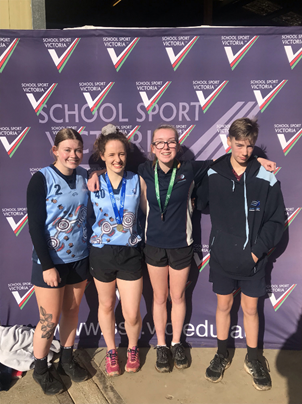 L-R: Emily Brabazon, Bridget Cain, Claire Irving, Dylan Dunstall
Thursday 13th June greeted the brave runners from all across Gippsland who came together at Lardner Park for the Gippsland Region Cross Country. Lardner greeted us with a sunny but cold winter's day, and the head wind on a long uphill section did the runners no favours.
Kurnai had a small but determined group of runners who had qualified for the event after great results at the Wellington Region event held earlier in the year.
In our best overall result (and a fantastic individual effort) Bridget Cain WON the 17-20 year old girls category, finishing comfortably in first place with a time of 11 minutes 20 seconds.
Emily Brabazon competing in her first year of cross country running also qualified for the state event, finishing 12th with a time of 13 minutes 15 seconds.
Claire Irving came third in her event (15 year old girls) with a time of 11 minutes 41 seconds, also qualifying her for the State event.
Dylan Dunstall ran a great race among an extremely strong 15 year old boys field in a time of 11 minutes 21 seconds, which put him in 27th place. Well done Dylan.
Out of the four runners from Kurnai, three qualified for the Victorian State Cross Country event which will be held in Melbourne on July 18th. We wish each runner the best of luck competing with and against the best junior runners in the state!