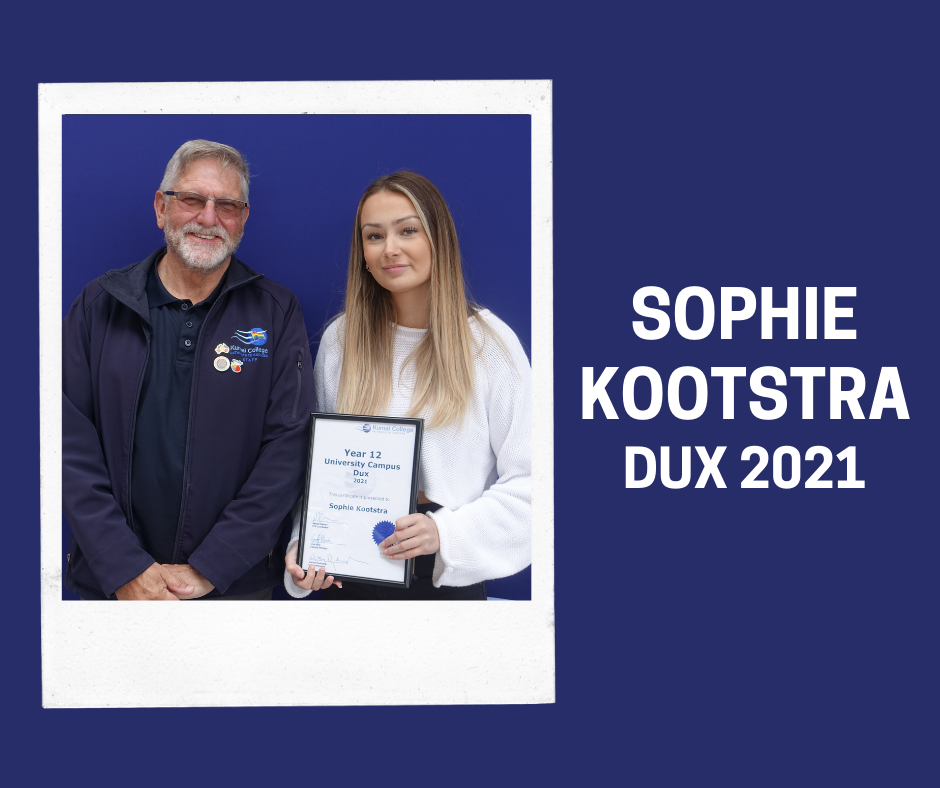 Kurnai College is delighted to announce that our Dux of 2021 is Sophie Koostra. Sophie's ATAR of 95 is an incredible achievement and is testament to her dedication to her studies during an unsettled year.
Throughout many of the lockdowns due to the COVID-19 pandemic, Sophie continued through focusing on her studies in English, Maths, Psychology, Health & Human Development, and a Certificate III in Health Services.
'Sophie is a very hardworking and dedicated student' as described by her teachers.
'Sophie was consistent in her work ethic, took on her feedback and was very independent. She continually strived to do her best'.
Sophie has accepted an offer to Monash University to study a Bachelor of Nursing and Bachelor of Midwifery. She has deferred her studies until 2023, and will continue working in her administrative role at Latrobe Regional Hospital that she gained through the completion of her Certificate III in Health Services.
Well done Sophie and all our Year 12 cohort for your achievements in 2021.
Latrobe Valley Express Article
22/12/2021
Alyssa Fritzlaff
THIS year's Year 12 VCE students finally received their ATAR results last week.
The moment they had all been waiting for finally arrived on the morning of Thursday, December 16 at 7am.
For many, their hard worked paid off in the form of an ATAR in the 80s or even the 90s.
For some, the score is a demonstration of the adversity they have overcome.
They each hold hopes their incredible results will act as a springboard for a successful future.
The Express talked with some of the region's highest achievers.
Kurnai College
SOPHIE Kootstra was awarded dux of Kurnai College with an ATAR of 95.0.
A Yinnar local, she has lived in the area her whole life.
"I was aiming for an 80 or 85," Sophie told The Express.
"It was just so unexpected. I just started crying – I couldn't believe it."
The last few years have been a battle for Sophie, so the knowledge that she had achieved such a fantastic score meant even more to her and her family.
In 2019, at the age of just 15, she suffered heart failure due to a genetic tumour and had to be put on life support in an induced coma for eight days. This had a major impact on the remainder of her schooling.
"While in the coma I was on ECMO… and there was a clot, and I had a stroke as a result," she explained.
"After eight days I woke up from the coma… I had to learn how to walk again, I had to be put on kidney dialysis.
"I have permanent nerve damage and a permanent brain injury… I have been able to continue everything I do daily, it's just been a bit harder.
"I get a lot more tired than my peers, I experience speech difficulty sometimes when I'm tired, cognitive fatigue… I do have troubles with speed of processing."
When Sophie finally returned to school she was still recovering, and was unable to spend full days in class or interact with her peers like she used too.
"It was hard for me to relate to my peers sometimes. No one should have to know what a stroke is at 15," she said.
Sophie wants to study Midwifery or Health Science.
She has been inspired by those who helped her during the most challenging moments of her young life, and wants to do the same for others.
"I would love to work regionally for a while, just to give back something to the community I was raised in. Regional areas are in need of more healthcare workers," she said.
Her advice for next year's Year 12 students is to choose subjects they are passionate about.
"Do the subjects you love and have a passion in… if you really love a subject you're going to put more effort into that subject, therefore you're going to do better and your VCE experience is going to be so much better."
https://latrobevalleyexpress.com.au/news/2021/12/22/regions-top-vce-achi...